Designed to heal. Fast.
For mom and dad, using Balmex is easy. Simply apply it to baby's skin and let the healing begin. But there's actually a lot of science going on behind the scenes. Balmex diaper rash remedies are specifically designed to go on smoothly and come off easily – and they each use a unique blend of key ingredients.

Balmex Complete Protection

Diaper Rash Cream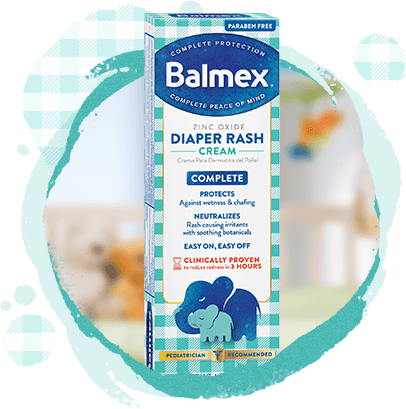 No diaper change is complete without it.
Balmex Complete Protection prevents rash before it starts by forming a protective barrier while neutralizing rash-causing irritants. It's clinically proven to gently reduce the redness caused by a diaper rash in just 3 hours.* Plus, it's hypo-allergenic and free of parabens, dye and fragrances making it ideal for even the most sensitive skin.
Use dermatologist tested and approved Balmex Complete Protection to help treat and prevent diaper rash by applying it to your baby's bottom with every diaper change. Before you apply, let her bottom dry completely to help ensure there's no moisture left to irritate her skin. Go ahead and apply it liberally—Balmex is designed to go on smoothly and come off easily. This helps minimize discomfort—for both you and your baby.
*Data on file.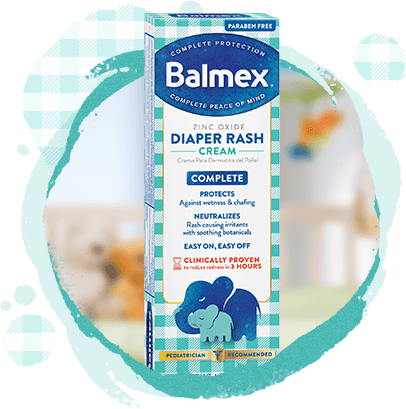 Key ingredients:
Zinc Oxide: 11.3%

The #1 pediatrician-recommended ingredient for healing and preventing diaper rash. Zinc Oxide works by forming a waterproof barrier to keep wetness away from baby's skin. Plus, this safe and effective ingredient protects against chaffing and friction that may be caused by her diaper. Unlike other diaper creams with a higher concentration of Zinc Oxide, Balmex Complete Protection is easy to remove—resulting in less irritation for her little bum.

Vitamin B5 and E

The broad abilities of Vitamin B5 help moisturize and regenerate your baby's sensitive skin, while also calming the itch. Vitamin E is a fat-soluble, essential nutrient with anti- inflammatory and antioxidant properties that support and stimulate the skin's healing process. Combined, these two natural ingredients act to quickly comfort and soothe diaper rash.

Botanical Extracts

Only Balmex has a unique blend of botanical extracts that neutralizes rash-causing irritants. One botanical ingredient found exclusively in Balmex Complete Protection is Evening Primrose. This natural ingredient has been proven to breakdown the digestive enzymes in poopy diapers before they can damage the skin. Evening Primrose also helps prevent an increase in skin pH while moisturizing your baby's bottom.

Balmex Multi-Purpose

Healing Ointment

.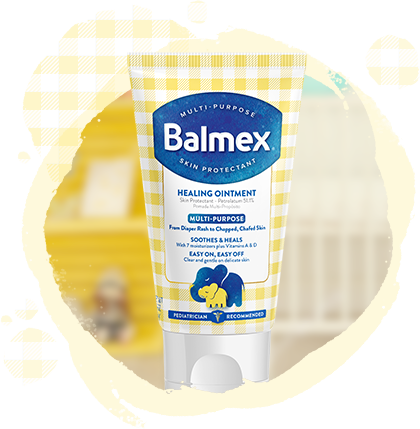 Go ahead and baby your skin too.
Whether you're protecting your baby's bottom or babying your own skin, Balmex Multi-Purpose Healing Ointment is a powerful skin protectant. It treats most types of skin irritations – from diaper rash to chapped, chaffed skin.
The clear ointment goes on easy and should be applied liberally and often. Add a little extra to your baby's bottom if she's going to be in her diaper longer than usual. For chapped, chafed skin and other skin irritations, gently apply Balmex Multi-Purpose Healing Ointment as needed, or until you (and your baby) get relief.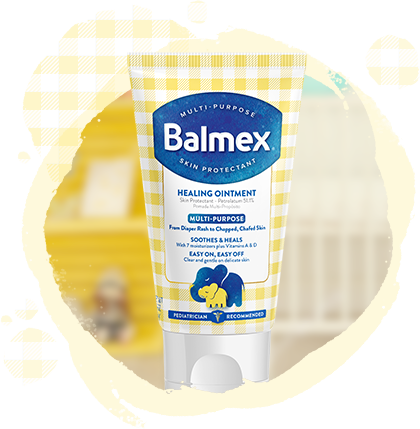 Key ingredients:
Petrolatum: 51%

Virtually nonallergenic, Petrolatum makes an ideal skin protectant. Its thick, waxy consistency protects against chafing. It also acts as a moisture barrier, relieving dry, cracked skin, and protecting against environmental irritants such as wind and cold weather. Plus, petrolatum actually prevents water loss, sealing out wetness and keeping dry skin from happening in the first place.

7 Moisturizers

Balmex Healing Ointment nourishes and softens the skin with a unique combination of 7 moisturizers. Key among them is Aloe Barbadensis Leaf Extract. Found in aloe vera, it has been used for centuries to treat and heal skin irritations. Chamomilla Recutita (Matricaria) Flower Extract is another natural moisturizer with anti-inflammatory and healing properties. It helps make diaper rash and problem skin simply disappear.

Vitamins A and D

Vitamin A is an essential vitamin for healthy skin. It helps speed up the healing process while naturally moisturizing and hydrating. Plus, Vitamin A builds collagen fibers to restore elasticity in the skin. Known as the "sunshine vitamin," Vitamin D is actually made up of three vitamins—D1, D2 and D3. Studies show that it helps treat skin conditions, like diaper rash and flaky skin.