Recommended by pediatricians. Trusted by parents.
Balmex offers two formulations of diaper rash remedies that get baby feeling better
faster, while also protecting against new diaper rashes before they happen. That's why
pediatricians and parents have been choosing Balmex for over 50 years.
Three key benefits. One trusted brand.
Protects

Balmex protects by creating an impermeable moisture barrier to shield against wetness. Both Balmex formulations also help protect delicate skin from the chafing that can be caused by contact with diapers.

Soothes

Balmex's proprietary combination of botanicals neutralizes rash-causing irritants while soothing diaper rash. Other leading brands only provide a moisture barrier and protect against chafing. Your little one deserves the diaper rash remedy that has it all.

Heals

Balmex is the only diaper rash remedy clinically proven to reduce redness in just 3 hours.* In fact, it takes other leading brands 6-12 hours to start to heal baby's bottom. And as a parent, you know that every minute truly matters.

*Data on file.

Time-tested formulas.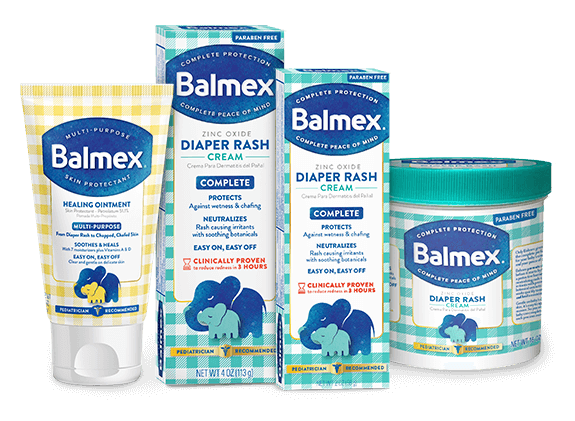 Balmex Complete Protection Diaper Cream
Balmex Complete Protection simply does more than other diaper creams. Formulated to provide complete protection against diaper rash, it treats existing discomfort quickly, and even helps prevent new rashes before they start. Gentle on baby's delicate skin, it's both easy to apply and easy to remove—so it's gentle on mom and dad's time as well.
Balmex Multi-Purpose Healing Ointment
Created to treat a wider range of skin issues, Balmex Multi-Purpose Healing Ointment is an ideal skin protectant for the entire family. Petrolatum-based and packed with 7 healing moisturizers, it's gentle on the skin but still powerful enough to treat diaper rashes, chapped, chaffed skin and most minor skin irritations.